The next day we had breakfast and checked out of the Chateau. I was kind of sad to go because I would have liked to stay for at least one more day. Oh well, we had a planned to go to see some ruins of the Abbaye Cistercienne in Villers La Ville and visit the Butte Du Lion in Waterloo.
The 30 minute drive to Villers La Ville took us through the beautifull countryside of Belgium. I was really enjoying the view, it was simply stunning.
🙂 We got at the Abbaye Cistercienne, parked the car and took a look around. There was a fleemarket and it was quite crowded, old people, families with their childeren running around. We decided to go take a look what we came to Villers La Ville and weren't dissapointed. The ruins of the Abbaye Cistercienne were impressive.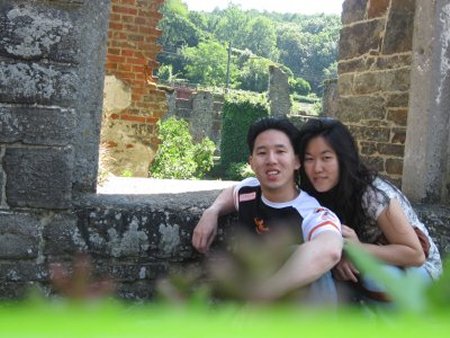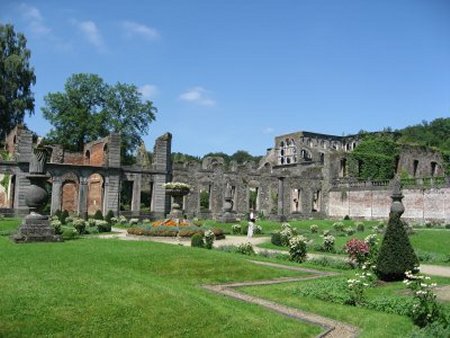 After Villers La Ville we went to Waterloo to check out the monument marking the famous battle of Waterloo where Napoleon lost. Again during the ride enjoying the scenery. We could see the Butte Du Lion from quite a distance and when we got closer I could only think of how high it is. Before getting on the stairs to the top of the Butte Du Lion there was a sign that read: "Warning. Only climb there stairs of you're in good health." Reading the sign before going up the hill I was thinking "Yeah right … 226 stares is nog that much" but halfway I was getting tired. Guess I need to do some fitness again … anyway. Take a look at the picture to get an impression.
At the top we admired the scenery and went back down again. Time to see downtown Waterloo and do some shopping. 😛 We had to look for a parking but we managed to find one and set off to do some walking around and some shopping. After walking around in Waterloo we decided to go back to Amsterdam. While driving back from Waterloo we took a detour towards Antwerp to have dinner before really heading back home.
Since it was some years ago that me and Gio went to Antwerp it was nice to go there and have dinner. The weather was nice and we had a nice dinner in a nice Italian restaurant called Di Giovanni. The food was as good as it was the last time we were there. As we walked back towards the car we strolled through Antwerp enjoying the city. Alas, it was getting late and is was time to drive back to Amsterdam … but we had a great time in Belgium. Even if it was only two days.