I finally got myself a new phone to call with to replace my 3 year old Nokia 6230 and guess what … it's a new Nokia. Who would have thought that. 😛 Anyway, after a lot of thought and looking around for a new phone I had a short list of a few Nokia's that looked interesting for me. The short list consisted out of the following models: E65, 6110 Navigator, 6290 and last but not least the 6300. If you're into mobile phones and into the latest models from Nokia you can see that de 6300 stands out in my short list.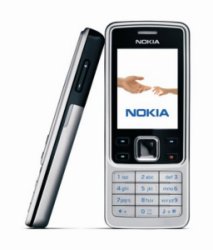 For those not into all the mobile phone stuff I'll tell you. The 6300 is the only phone which isn't a "smartphone". The other three models are all loaded with the symbian software which makes them "smart". With smartphone I mean a phone which can edit and make office documents (word, power point, excell) and can use software like TomTom. It was quite a hard decision but in the end I took a look at what I really was using on my phone and the 6300 can do all that.
I'm quite happy with my new phone and I think I'm going to be using this one for some time. For all the other stuff that a smartphone can do I still have my other HTC Tytn. Anyway, I really like the new models that Nokia is releasing the last few months and coming months. Finally they are doing something about the design of their phones. And finally they are making some smaller stylish phones.