Well, after a two week TSF reunion here in The Netherlands it is time to get back to jobhunting. The last two weeks were fantastic and it felt like how it was in BJ, the only difference being that we were in The Netherlands aka Dutchland. Four TSF family members were planning on staying in Dutchland to visit us Dutchies. A short breakdown of the TSF group that was here. The Dutchies consisting out of Pamela, Wijie, Marc, Sheng, Sammy, Hing & me. The family members that came to visit us over here in Dutchland: Suzanne (New York, US), Ana (New York, US), Andrew (Stockholm, Sweden) & Steven (Aarau, Switzerland).
So how did this all happen? It all started with Suzanne planning on coming to visit her boyfriend Marc, she convinced Andrew to come and he (along with some of the Dutchies) managed to convince Steven & Ana to also join in the same timeframe that Suzanne was coming over. Result: a big TSF family reunion. 😀
It started on Tuesday the 25th of November when Ana landed at 6am. Yeah I was there to pick her up since she was going to stay at my place for two weeks. On wednesday Suzanne landed with Marc picking her up and on Thusrday Andrew and Steven arrived. Ana, Andrew & Steven stayed at my place and Suzanne ofcourse at Marc's place since she came to mainly see him with the rest of the TSF being an added bonus. This marked the start of three crazy days with the whole group being here. We went sightseeing to Zaanse Schans, Rotterdam & Amsterdam. Those three days passed by sooooo ridiculously fast and on Sunday we had to bring Andrew back to the airport. He was the first to leave back again, well at least he was able to join the reunion and had fun. 🙂 Tuesday was Stevens turn to go back and that only left Suzanne and Ana who were staying longer in Dutchland.
Since it was the first time for Ana to visit Europe I planned out an itenary to also visit France & Belgium during her two week visit. So after the departure of Steven me and Ana went traveling. Wednesday morning it was off to Paris for two days with the mission to see as much as possible. Those were two exhausting days, we walked around Paris all day and managed to see and do all of the following: Le Sacre Coeur, The Opera House, Le Louvre, Arc the Triomphe, Notre Dame, The Eiffel Tower and walk along the Seine and Champs Elysee. Food wise we had crepes, baguettes and other yummy food.
After two days Paris it was of to Brussels and walk around in city center. Ofcourse we had to see Manneke Pis, The Cartoon Walls, Grand Place and have yummy food (chocolate, wafels, mussels etc.). To bad we didn't manage to hit the Atomium, since I also have neer been there before. Oh well, another time. The next day it was already the last city before going back to Dutchland, off to the city of Antwerp. We walked around city center, had lunch and dinner and went back to Amsterdam. That was last week Saturday and three days ago on Tuesday the 9th of December Ana left for NY. Marking the end of the TSF reunion, Suzanne left a few days before Ana did.
I had a great time with all of you, in BJ and here in Dutchland. I won't say goodbye but:
"Untill we meet again!!!"
Because I know I will try visit you all in the future. Don't know when and I don't know where but our paths will cross again.
.
from left to right: Pamela, Andrew, Sheng, Marc, Suzanne, Steven, Wijie, Ana and me sitting in the clog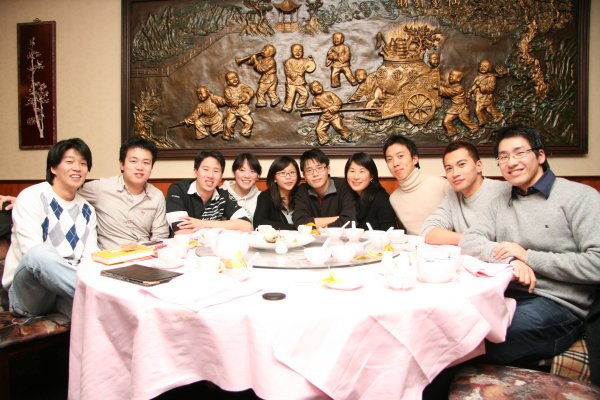 from left to right: Wijie, Hing me, Pamela, Ana, Andrew, Suzanne, Marc, Steven & Sheng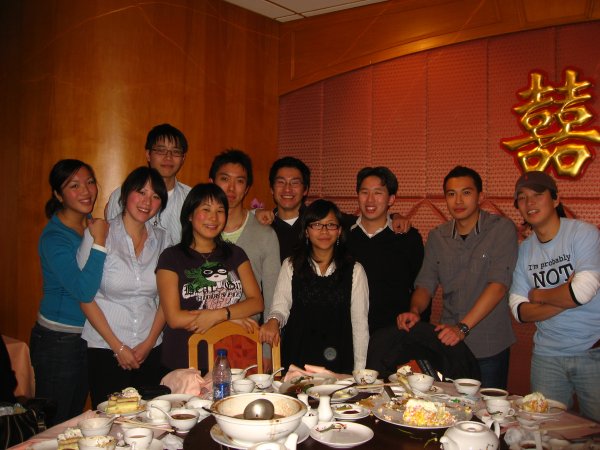 from left to right: Sammy, Pamela, Andrew, Suzanne, Marc, Sheng, Ana, me, Steven & Wijie