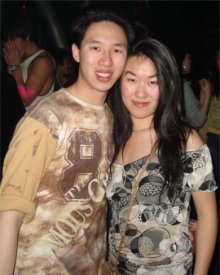 10 days and then it's almost been a year that my gf has stayed in Beijing. One whole year … time was going fast and it was going very slow at times. I can't wait to see her again and I'm starting to count the days that are left before she's back in the Netherlands.
Eventhough I visited her in Beijing it's still more than six months that I couldn't be with her. I visited her during my x-mas break. The plane landed on the december 23 and I had two whole weeks with her. Well not exactly two whole weeks because she still had to follow classes the first week and had exams the second week. But I couldn't care less about that.
I was there in Beijing with her and got to spend time with her, meet the friends she made, have a vacation and got to taste a little of the atmosphere in Beijing. When I had to leave after two weeks (my plane left on January 8) I really didn't want to come back to the Netherlands. I wanted to stay longer but as the saying goes: "Business before pleasure".
10 more days … and counting … hope my gf can adjust to the life here in the Netherlands because spending one whole year in another country changes a person. In more ways than one. I see a lot of people going off to different places and a lot of them going to China (mostly Shanghai, Hongkong and Beijing) and I really starts to get at me because I really want to go to Beijing for six months. Oh well like I said before, Business before pleasure. First gotta get that piece of paper.
I'm finally getting going with my Master thesis and if all goes according the time table I've set up I'll be finishing it in October/November and to my final presentation somewhere in December. But that's in the future … 10 more days ….. 10 more days ….