Yesterday I went to Beijing Jazz with a few international students from Tsinghua. It's funny how you get to meet people. Someone asked Marc if he wanted to go and he asked me and the EUR group if we were interested. Me liking music and Jazz it's not really hard to guess my answer. I was curious to see and hear what kind of Jazz China has to offer and how the atmosphere was going to be. I've only been to two Jazz festivals in the Netherlands, North Sea Jazz in 2005 and The Hague Jazz 2007. Back to the story, we all met up at around 17:00 and we went off to Haidian Park where Beijing Jazz is being held. More info: http://beijingjazz.cn/
We bought our tickets and we asked some people if they could take a few group pictures with three different camera's. Well it was kind of a surprise to see how they took the picture. (O_O) Just take a look and see for yourself. It has a nice composition but I haven't got a clue as to why they did't zoom in on the group itself. Oh, well it made for a good laugh and surprise when we all saw the pics. 🙂 And there's a thing called cropping and photoshop as you can see. BTW the large versions have a lot of noise in them, that's way they might look weird (hmmm mental note, don't forget to ask the pics others took) .
.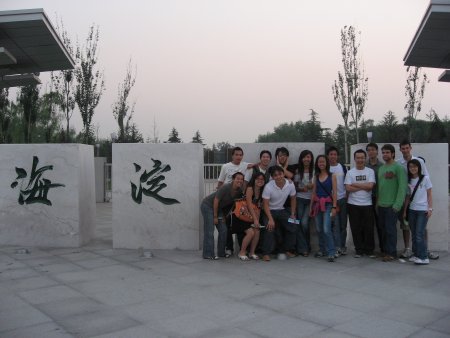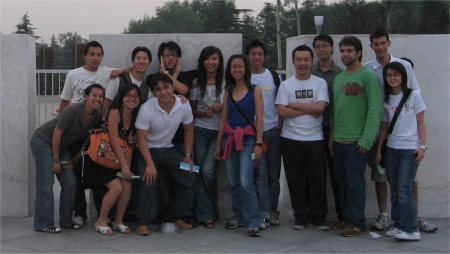 …
The first band (Golden Buddha Jazz Unit) we got to see and hear play was really good. I've put some clips on on-line on youtube and you can check them out below all thanks to a wonderfull plugin called easytube to make my life a lot easier. 😀 Anyway, after the first group we walked towards the white stage. Getting there we were greeted by a group called Jungle Cat, you really can't forget the name if you hear it like every 10 minutes or so. The music was ok, but it wasn't Jazz. As the group name already suggests, the music they were playing was more Jungle/Drum and Bass/Breakbeat than Jazz. It was ok though, during their performance some of us got a beer. And I was kind of surprised to see they were selling Belgium beer. Yep people, I flew halfway around the world to drink Belgium beer at Beijing Jazz 2007. Spoke with two Belguim guys behind the bar, got my beer and went back to Jungle Cat.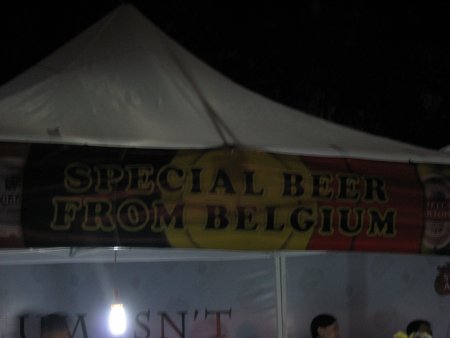 ..
After Jungle Cat we went back to the blue stage but nobody was playing yet, since some of us were hungry (me included) we decided to get something to eat at the entrance. We walked back, sat there for a while and went back towards the blue stage were we heared we missed Anna Nygren (Sweden). She was good from what I heared, Andrew (he's from Sweden) even got the chance to talk to her and get her autograph. While typing this I'm listening to one of her songs on the Beijing Jazz website and I'm thinking: "Damn, I should have gotten something to eat when Jungle Cat was playing !!!". Oh well, these kind of things can happen. We walked around and decided to go eat at the KFC at Wudaokou. Should have waited with eating, oh well. Like I said, these kind of things can happen.
Golden Buddha Jazz Unit
[youtube:http://www.youtube.com/watch?v=mFXQdpSm2Ow 225 169][youtube:http://www.youtube.com/watch?v=kQ7h85tA5xs 225 169]
Jungle Cat
[youtube:http://www.youtube.com/watch?v=k6HlTVzOx7A 225 169][youtube:http://www.youtube.com/watch?v=5iOblDL7tWM 225 169]
…
We went back to Wudaukou, ate at KFC and went out to Mix. That's a club just across from Vics were I went to last week. This week I could try out Mix. It was ok, music wasn't that bad but not great either. Maybe I'll try it again but at this moment Vics has my preferance. Anyway, I got back at the dorms around 5:30 with the EUR group, all the other people already went home. Since I wanted to be able to take a hot shower I only slept utill 8:15 or something like that. Yep, that's one of the drawbacks of having timed hot water. And now I'm typing this post, uploading the clips I made yesterday and I'll have to study later. Anyway, enjoy the clips. All of my pics will be online sometime soon, don't worry. If you want to see other movies/clips I made go and visit my youtube page.